Type:
Traditional Guest House
Region:
Epirus
Prefecture:
Ioannina
City:
Kipoi
Address:
Kipi, Central Zagori
Telephone:
(+30) 26530.71.705, 6974.338.712
Tel or Fax:
(+30)
Category:
-
Rooms:
8
Period:
1-12
Beds:
30
Facilities:
ΕΟΤ ID
Website:
Official Web Page.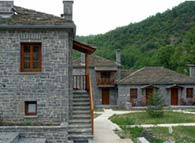 Welcome to the accommodation complex "Amanitis". We are located in the heart of the area of Zagori, Ioannina, offering accommodation (and much more) in newly built cottages which are decorated in the classical traditional style of the stone houses of the area.
Find us.
Point of interest
Information